Spicy Korean Basic Chicken and Rice Recipe
This recipe is one of my favorite basic chicken and rice recipes when I'm feeling kind of lazy but don't want to spend over an hour in the kitchen.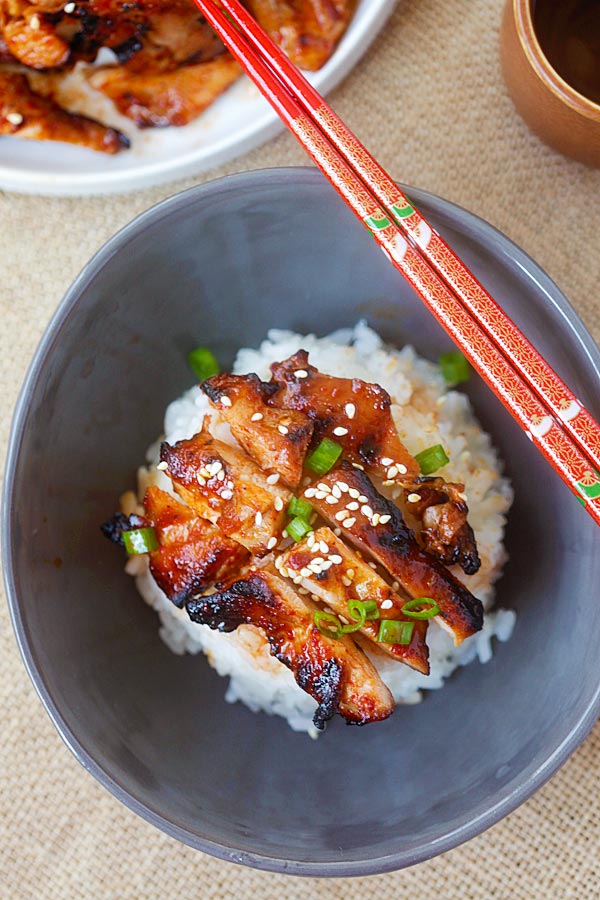 This recipe does call for more than the usual ingredients but you can use and keep the ingredients in your cupboard for a long time. They are the building blocks for most Korean recipes.
So let's get started.
This recipe is just a basic chicken and rice recipe but using Korean gochujang (chili paste). It's moderately spicy but gives the chicken and whole new flavor that you will get you hooked on Korean food, if you're not already! Similar to chicken teriyaki but with a PUNCH!
You serve the chicken on steamed rice, combined with boiled vegetables and you have a highly nutritious & super delicious meal.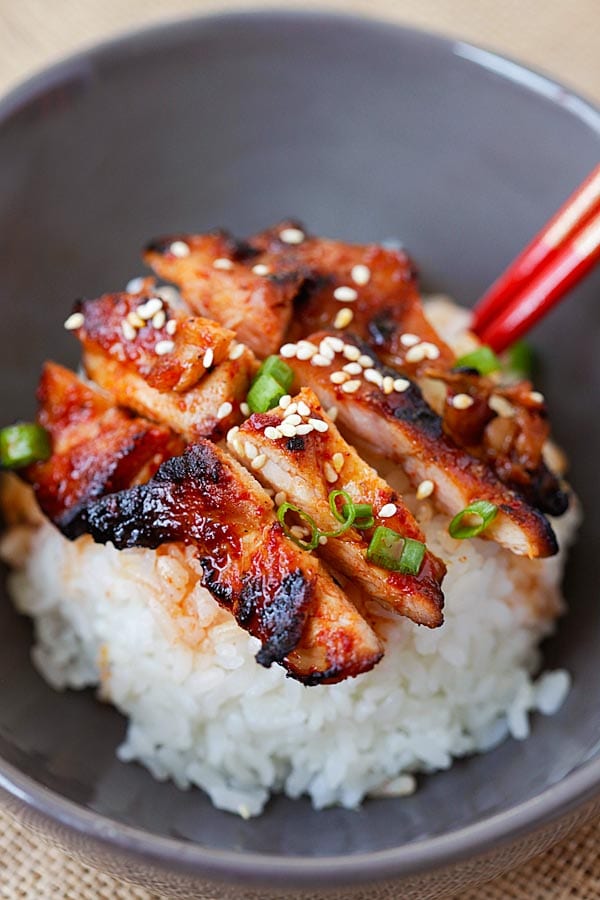 Spicy Korean Basic Chicken & Rice Recipe
Serves 4 | Prep: 10 Min | Marinade: 30 Min | Cooking: 15 Min
Ingredients:
1 pound skinless and boneless chicken thighs
Marinade:
2 tbsp Oil
1 ½ tbps Korean chili paste (gochujang)
1 tsp Korean red chili powder (gochu-garu) Regular chili powder works too.
1 tbsp sesame seed oil
2 tbsp soy sauce
1 ½ tbsp. sugar
1 inch peeled and minced piece of ginger
3 cloves of garlic, minced
Salt to taste
Where do I get gochujang (Korean chili paste)?
Usually you can find gochujang in any Korean store. If there are no stores around you, you can do a quick search on Amazon and purchase some online.
Get cookin'
 Slice chicken thighs into 2 or 3 pieces, horizontally. Put aside.
Combine all the marinade ingredients into a bowl and whisk it until the gochujang (Korean chili paste) is dissolved and smooth.
You can grill the chicken until a little bit charred and completely cooked.
You can pan fry as well.
For baking, bake in the oven at 400 F for 20 minutes. Make sure to serve on top of rice immediately for the best taste.