Southern Chicken and Rice Recipe
This Southern Chicken and Rice Recipe is a great weeknight dinner and is great for utilizing left overs into a healthy and delicious dish.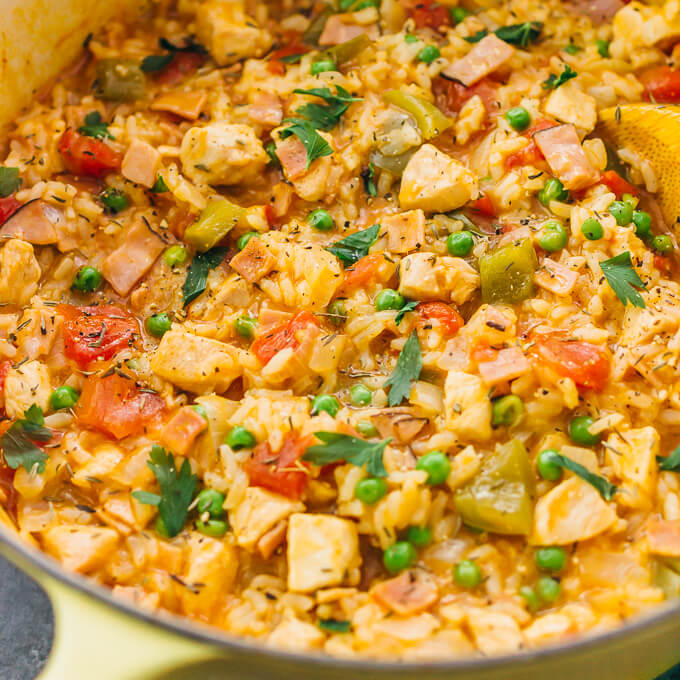 You just throw all the ingredients into a pot, including uncooked white rice, cover the lid, and let simmer for about twenty minutes before you start chowing down. This dish includes protein, grains, and vegetables making it a healthy and balanced dinner option.
This southern chicken and rice recipe is a lot like jambalaya because it includes more than one meat, with rice and a Cajun twist.
This pot involves spices such as paprika, cayenne and thyme. Not too spicy but you can adjust to your taste.
Since it will be simmered the rice is nice and soft, together with chicken broth, tomatoes and other tasty ingredients.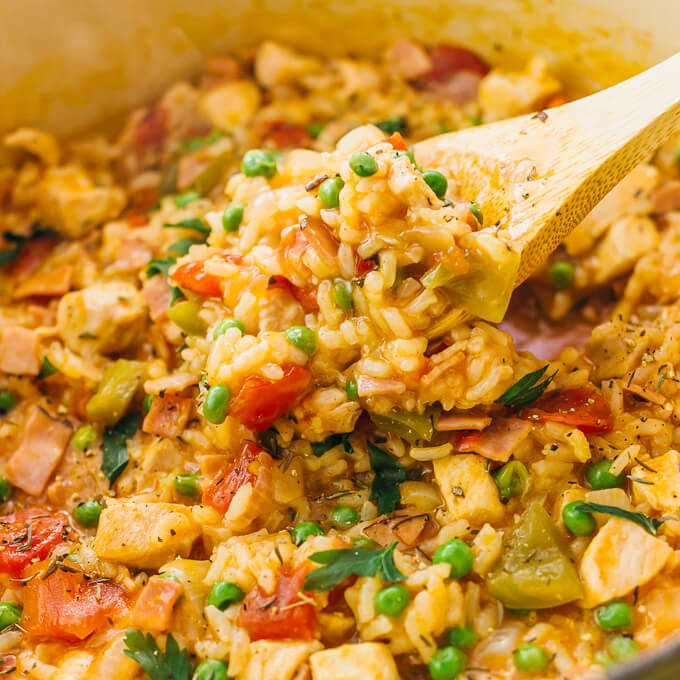 How To Cook
Here is the southern chicken and rice recipe for you to try out.
Prep Time: 35 minutes
Cooking Time: 35 minutes
Servings: 5
Calories: 583 kcal
Ingredients
·         1 ½ pound boneless skinless chicken breasts cut into 1 inch chunks
·         8 oz diced smoked ham
·         1 sweet onion (chop)
·         1 green bell pepper (diced)
·         5 cloves of garlic (minced)
·         15 oz can of diced tomatoes
·         1 cup of  uncooked white rice
·         2 cups of chicken broth
·         ¾ cup frozen green peas
·         2 tbsp of butter
·         1 tsp of paprika
·         1 tsp of dried thyme
·         ½ tsp cayenne
Method
·         Heat the butter in a large pot on medium heat, spreading around the pan. Add the chicken and saute until all sides are cooked for about 5 minutes. Stir occasionally. Add the ham together and stir.
·         Add the bell pepper, onions, and garlic. Cook until the onion starts to turn clear for a few minutes. Stir occasionally.
·         Add the tomatoes with the liquid, white rice, chicken broth, cayenne, thyme, and paprika. Stir.
·         Bring pot to a boil. Cover the pot and reduce to medium-low heat. Let it simmer until rice is tender and a lot of the liquid is absorbed. About 20 minutes.
·         Add salt to taste and stir in green peas. You can add chopped parsley as well if you'd like.